What is Metal Tube Rotameter?
Metal tube rotameter, characterized by high strength, safety, and durability, is designed to measure the flow of such medium as liquid, gas, and vapor etc. It is especially suitable for measuring the corrosive and turbid liquid as a result of its fine characteristics of high pressure and temperature resistance. Metal tube rotameter is able to not only ensure high measurement accuracy but also enhance safety and dependability. Thanks to its nicely unique appearance design, it has the finest explosion proof performance.
The rotameter adopts variable area measuring principle. The measuring device is composed of one taper measuring pipe and floater. The floater can move freely up and down in the taper measuring pipe to change the flow area in the pipe. When the flow changes, the vertical position of the floater inside the measuring pipe changes correspondingly. Through magnetic transmitting system, the position of the floater is transmitted to the dial scale of the indicator to indicate the flow.
Rotameter uses magnetic sensor and chip process technology, which allows the LCD to express instantaneous flow, accumulated flow, and percentage flow, and also provides twowire current signals output 4~20mA, compatible with HART communication protocol. Equipped with the indicator and alarm switch on the setpoint, metal tube rotameter gives high precession indicating and alarm signals output.
Features of Metal Tube Rotameter
·
All metal construction, strong and stable.
·
Short stroke, compact structure.
·
Low pressure loss design.
·
New style magnetic coupling structure ensures that the signal transmission is more stable.
·
Magnetic filter can be added as customer requirements.
·
Thermal insulation or tracing heat jacket.
·
Used in the gas and liquid measurement in all industries. The measurement parts can adopt different materials to be suitable for different media.
·
Suitable for harsh environment and seriously corrosion media. Having good heat resistance and pressure resistance.
·
Intelligent dual-line LCD display, on site instant/cumulative flow display and back light as options.
·
Two-wire system, battery, alternating current can be chosen to supply the power.
·
With data recovery, data backup and power fail protection functions.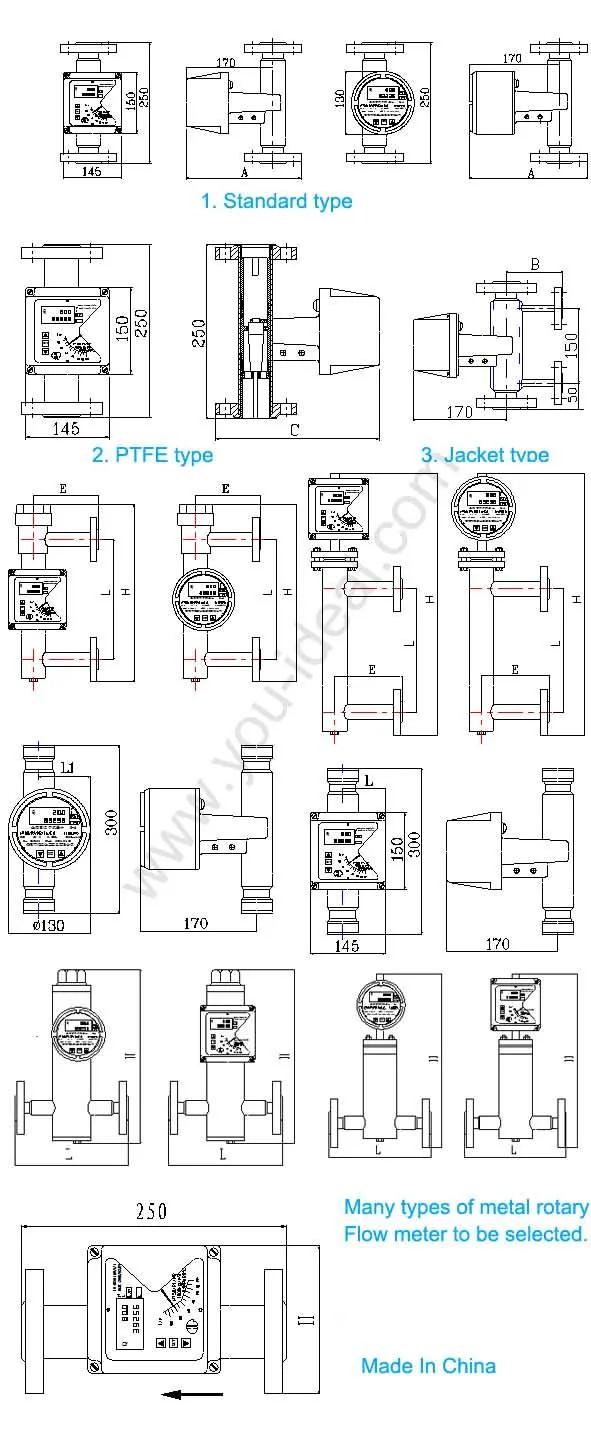 Technical Specifications of Metal Tube float Rotameter
LZ
U-ideal Series of metal tube float flow-meter







Structure of transmitter
50
Vertical connection , flow from bottom to top
51
Flow form bottom to side
52
Flow from side to side
53R
Horizontal connection , Flow from right to left
53L
Horizontal connection, flow from left to right
54
Vertical connection , flow from top to bottom
Wetted material
R0
Stainless steel 0Cr18Ni12Mo2Ti
R1
Stainless steel 1Cr18Ni9Ti
R4
Stainless steel 304
R4L
Stainless steel 304L
R6
Stainless steel 316
R6L
Stainless steel 316L
RP
Stainless steel lining PTFE
Hc

Hastelloy

C276
Ti
Titanium
Indicator
M1

Square shell ,glass view,

local indication

, intrinsic safety and limit switch

M2

Circle shell ,

local indication

,

intrinsic safety

or

explosion-proof

and limit switch

Display and Output
Es

24VDC power supply, Output 4-20mA , two-wires, HART communication

Js
3.6V lithium battery power-supply ,None Output
Anti-Explosion Type
Ex
Intrinsic safety
Ed
Explosion-proof
Alarm Output
K1
One point high limit switch
K2
One point low limit switch
K12
Two point high-low limit switch
Assistance structure
T

Heating or cooling jacket

Z
Damp system
G
High-temperature indicator
Fluid type
Air
Gas
Liquid(omit)
LZ50/R1/M1/Es/Ex/K1/Z/Air ( describe: Vertical connection, fluid take from bottom to top, Wetted material is 1Cr18Ni9Ti, M1 indicator , Remote Output, Intrinsic safety, One point high limit switch and the medium is gas. )
Flow range
Water 2.5~100000L/h; Air 0.07~800m3/h
Range ratio
Standard type10:1; Special order 20:1
Accuracy
Standard type: ±1.5%FS; Special order: up to ±1 %FS
Max. Working Pressure
Standard type: DN15~DN50, 4.0MPa; DN80~DN200,1.6MPa;Special order: DN15~DN50, 25MPa; DN80~DN200, 16MPa
Environment Temperature
LCD type: -30°C~+85°C; Pointer type: -40°C~+120°C
Connection Form
Flange connection: DIN2501 standard type; Can be made in accordance with the user's requirement
Explosion-proof Class
Intrinsically safe Exia II CT3~6 flameproof Exd II BT4
Protection Grade
IP65
Viscosity
DN15: <5mPa.s(F15.1-F15.3); <30mPa.s(F15.4-F15.8)DN25: <250mPFa.s
DN50-DN150: <300mPa.s